As the Project Architects for Reepham, Norfolk, we were delighted to be invited to attend The Service of Thanksgiving and Celebration of Reepham's Three Churches Project which took place on 30th April.
The Three Church Project celebrates the unique feature of the heritage of Reepham – its three medieval churches sharing one churchyard.
St Mary's Reepham (with Kerdiston)
St Michael's Whitwell
All Saints Hackford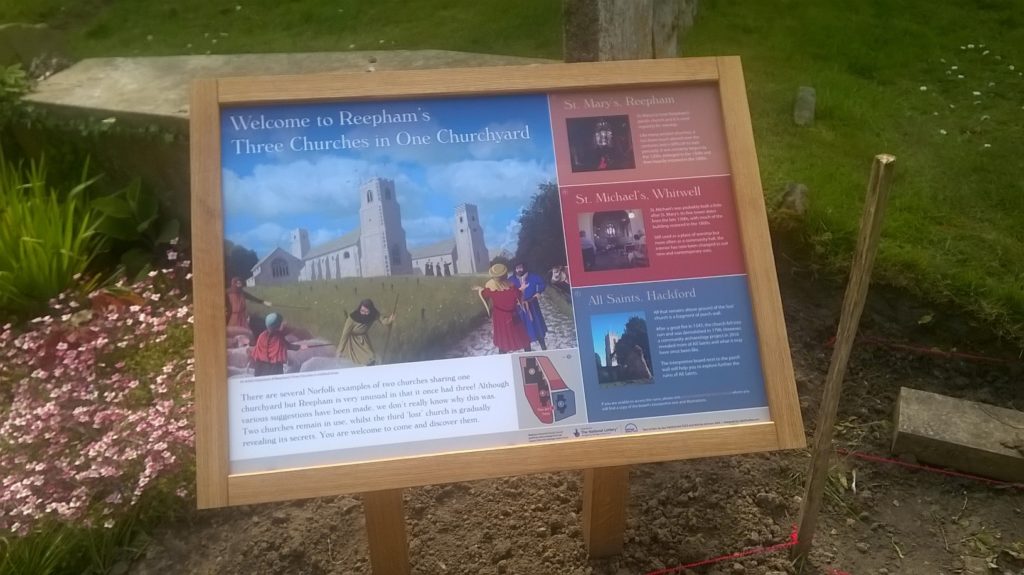 The existence of three churches in one churchyard is unique to the U.K. and is a significant piece of the heritage of Reepham. In the Spring of 2015 The Three Churches Project Management Team was formed and the team applied for Heritage Lottery Funding to commission reports on the necessary repairs to St Mary's, the history and origins of the Three Churches and their shared churchyard and as to how best the community and visitors might enjoy the three churches in their unique setting.  Nicholas Warns Architects assisted in the Heritage Lottery Fund application for the project "Reepham – Three Churches In One Churchyard" helping to ensure they received the grant.
The town sign depicts the story that they were built by three sisters, who had fallen out with each other.  Maybe the strange proximity of three churches is a result of rivalry, but the real reason remains a mystery.  Originally the churches of three adjoining parishes, they were united into one parish in 1935.
Here since 1300, two of Reepham's three churches, St Mary's and St Michael's, are still used for regular worship and a wide range of community activities.
For more information regarding Reepham's Three Churches Project visit here